Sharpstyle Boxing 12 Months On!
Sharpstyle boxing, Bagot St, South Shore, a community boxing gym developing grassroots to professional boxers.
The excellent coaching team consisting of Andy Abrol, Tom  Scott, Richard Turba, Mark Davies and Ryan Davies.
Sharpstyle looks back on their last 12 months:
3 home shows completed with home boxers developing their skills
Travelling up and down the country in order to pick up much-needed ring time
New show kit
Developments at the club have seen all new frontage, increasing security and light to the building.
Sharpstyle set up in 2008 by Andy Abrol, after his professional boxing career came to an abrupt end due to a serious back injury and after years of rebuilding his fitness, he started work as a fitness instructor focusing on boxing technique.
BTGI continue to support Sharpstyle and look forward to seeing how the club develops in 2015.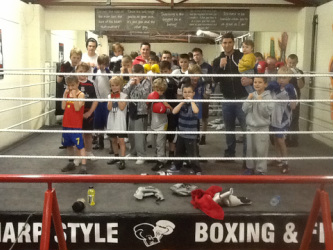 If you would like to donate to our charity